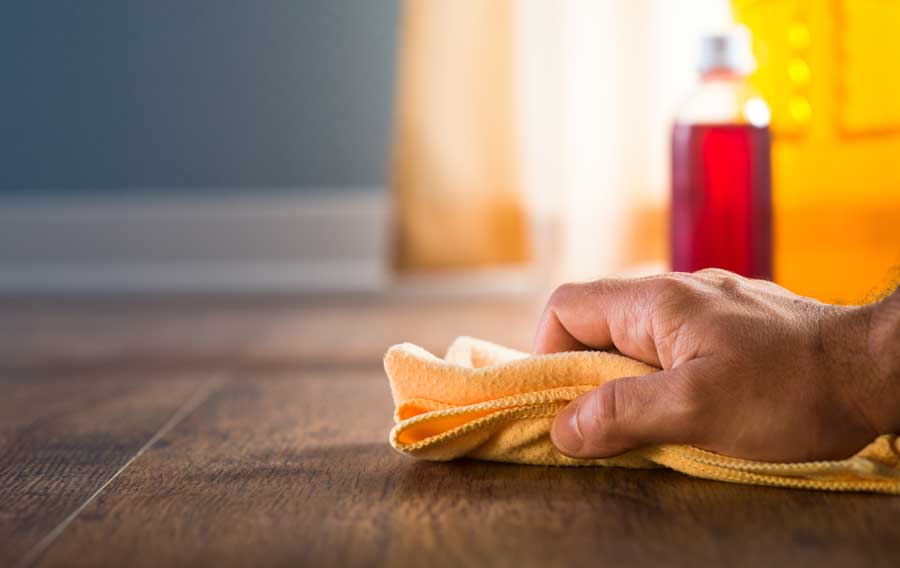 Hardwood flooring is a desirable option for many homeowners. But these floors do require special care and consideration. Our team at Elite care for many of the hardwood floors for our neighbors in the Denver area. And when doing so, we often get asked similar questions regarding the care of hardwood floors. So, we want to answer some of those most commonly asked questions with you today.
How to Clean Hardwood Floors
Regular cleaning is an important part of maintaining the beauty of your floors. Always make sure to sweep your floors before mopping. Sweeping or vacuuming will remove dirt and debris that could scratch your floors. When mopping, the concern is excess moisture. So, we do not recommend using a bucket and mop method. Instead, it is best to spray a gentle cleaner over the surface of the floors, (a gentle one that is compatible with hardwood floors and will not remove the protective sealer) and then wipe dry with a clean microfiber cloth.
How to Care for Hardwood Floors
Caring for your floors on a day-to-day basis should include cleaning up any spills immediately. Don't let them linger. Avoid using steam mops when cleaning and sweep and vacuum floors every other day to prevent dirt from settling into grains and joints. Also make sure to put socks or place felt buffers beneath couches and furniture to prevent scratching. It is also never a bad idea to have a habit of removing your shoes at the door. All these things combined will contribute to beautiful looking hardwood floors for years to come.
How to Polish Hardwood Floors
Many people want to maintain or refresh the shiny appearance of newly finished hardwood. To do this, you first need to know what type of finish is already on your floors. For European oil finishes and cured finishes, it is best to have them professionally refinished to bring back their luster. If your floors have a wax-based finish on them, search for a product that is compatible with it. There are several products on the market such as Basic Coatings and Bona Wood Floor Cleaner. Definitely steer clear of products like Murphy's Oil Soap and Orange Glow, as these will leave an unsightly and difficult to remove film over your floors.