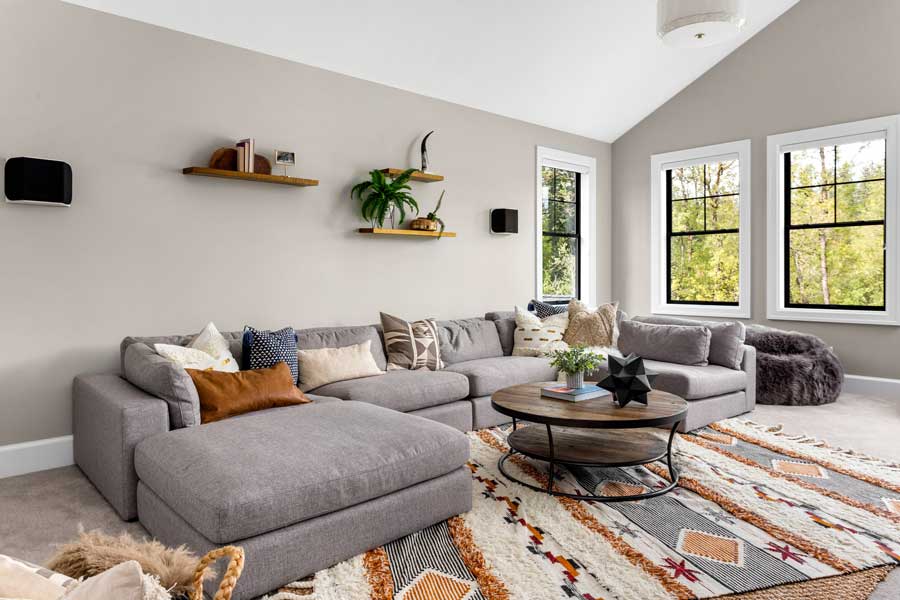 Area rugs are great if you want to add a little warmth, style, and comfort to a room. Whether you have hardwood floors or carpeting, a rug can be a nice compliment. Rugs can be a big investment, however. And it can be overwhelming to know where to even begin when choosing one. That is why we want to share some things you should consider before rug shopping first.
Consider the Size
The first thing you need to consider is the size of the room that you wish to put a rug in. When a rug does not have the aesthetic impact that you were wanting, usually the issue is that it is too small. Generally speaking, a rug should be large enough to fit under focal furniture pieces in a room. Such as, a sectional and a coffee table. If you are working with a particularly large room, you can fit several rugs into the space. You can use the rugs to break up the room and block off spaces. Rugs are fun because they come in a lot of patterns, but when you are placing several rugs in one room, just be sure that they complement each other even if they do not match.
Consider the Pattern
As we briefly touched on above, rugs come in a wide range of styles, colors, and patterns. They are like functional pieces of art. This is one of the main reasons that people choose to add rugs to their home, to add visual interest. Rugs are a great opportunity to add a pop of color and fun textures to a space without it becoming overwhelming. Just make sure that your furniture will not cover the entirety of the rug's pattern when placed over the top.
Consider the Maintenance
The last thing you should know before purchasing a rug is how to maintain it. This can vary slightly depending on the material and construction of the specific rug that you have chosen, but these tips are ones that most rug types can benefit from.
Make sure to keep the tag with cleaning instructions that will come with your rug so that you can reference it later. Of course, regular vacuuming is number one. As for low pile rugs, make sure to take the time to shake them out occasionally. And lastly, you should have your rugs professionally cleaned at least annually. That's where Elite Carpet Cleaning can help. We can professionally clean your carpets and rugs so that they remain in peak condition for years to come. Our services remove dirt buildup as well as allergens that can affect your family's quality of life. Let us be a part of your rug maintenance routine.